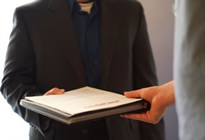 Butte County Process Serving Service
Make your deadline with help from a process serving service
Accurate Document Imaging has been in business since 2003. We handle the process serving needs of clients in 9 northern counties of California, including Butte County. All of our process servers are fully licensed and bonded by the State of California. They know the area well and know all the tricks of the trade in tracking down those who need to be served. We always stay well within the bounds of the law in our diligent pursuit of providing the best possible personal service and, if necessary, substitute service for all of our clients.
Accurate Document Imaging partners with their clients to make sure that the important details of court document filing and process serving service are not overlooked. Accurate Document Imaging offers process serving, including service of subpoenas, as well as posting of eviction notices, notices to quit, and notices to vacate. Accurate Document Imaging also assists clients with process serving in cases with multiple parties and witnesses, even in cases requiring address verification or time-consuming service on hard-to-find parties.
When you need to file a lawsuit and a process serving service, we are here to help. All of our staff are very friendly and happy to answer any questions you may have. Please give us a call at 530-224-9980 or download our fillable work order form below.
Request Services Here