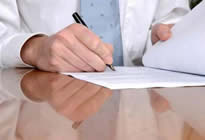 Butte County Subpoena Preparation Services
Relieving the burden of subpoena preparation and serving
Accurate Document Imaging understands your unique requirements of the Legal Industry and has the experience and the expertise to complete your subpoena preparation accurately and on time. We specializes in facilitating the discovery process for Counsel, Paralegals and Insurance Claim Professionals by obtaining needed information that helps in organizing any case file effectively.
We prepare numerous types of subpoenas in Federal and State jurisdictions and we include preparation of supporting documentation and notices as required for your subpoena. Once subpoenas are prepared by us, we will automatically designate ourselves as the deposition officer. If you choose to prepare and/or serve your own subpoena, we are available as your deposition officer.
Our Butte County Subpoena Preparation Department will prepare your subpoena and serve the location(s) and opposing counsel(s). As your deposition officer, we will scan on-site the documents requested and provide them to your firm on a timely basis. Call Accurate Document Imaging today or download the work order form to relieve your staff from time consuming tasks required to prepare subpoenas.
Request Services Here