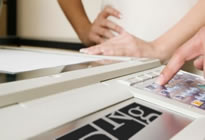 Glenn County On-Site Medical Copying Service
Experienced team of document scanning personnel available for remote onsite and local scanning projects
Discovery materials must be scanned and duplicated as part of standard procedure; however, no one should trust the job to just any firm. Choosing an unreliable service provider can easily result in a destroyed custody chain. It can also end up with lost, mixed up, or ruined documents that can result in serious complications for everyone involved. This is why it is preferred to utilize the on-side document scanning services provided by Accurate Document Imaging.
The primary benefit to on-site medical copying is that the documents never leave your premises. All scanning and printing is done on-site and in a controlled environment. Our on-site medical copying team will remove staples, paper clips and any other fasteners, scan your documents and then return them to their original state. Our quality control process ensures that all documents are kept in their original order and that the scanned files are organized into files for easy retrieval.
Accurate Document Imaging is the premier litigation support specialist in Glenn County. In particular, we understand the pressing need for the timely delivery of scanned discovery documents. We have extensive experience in managing the on-site medical copying process and the resources to deliver a project on time at a reasonable cost. Our knowledgeable support staff can answer any questions about on-site medical copying or about any of our other litigation support services.
Request Services Here