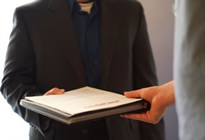 Glenn County Process Serving Service
Make your deadline with help from a process serving service
As a professional process serving company in Glenn County, we serve the entire Northern California area. In business since 2003, our licensed and bonded process servers deliver legal notification, as required under the Rules of Civil Procedure, to anyone being named as a defendant in a lawsuit. There are 3 methods of accomplishing service – personal service, substituted service and constructive service. By far, the preferred method of service is personal service.
Accurate Document Imaging partners with their clients to make sure that the important details of court document filing and process serving service are not overlooked. Accurate Document Imaging offers process serving, including service of subpoenas, as well as posting of eviction notices, notices to quit, and notices to vacate. Accurate Document Imaging also assists clients with process serving in cases with multiple parties and witnesses, even in cases requiring address verification or time-consuming service on hard-to-find parties.
The team at Accurate Document Imaging takes pride in providing prompt, high quality and reliable process serving service for their clients. Accurate Document Imaging responds quickly to client requests, and will handle process serving on short notice when necessary to meet a court date. One call to Accurate Document Imaging will take care of all of your process serving needs.
Request Services Here