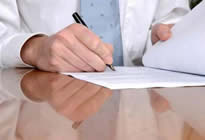 Redding, Shasta County Subpoena Preparation Services
Relieving the burden of subpoena preparation and serving
Your firm's staff no longer has to be involved in the tedious tasks required to prepare subpoenas in Shasta County. Instead, have our team of experts at Accurate Document Imaging accurately and quickly prepare your subpoenas that are required in the litigation process.
We prepare numerous types of subpoenas in Federal and State jurisdictions and we include preparation of supporting documentation and notices as required for your subpoena. Once subpoenas are prepared by us, we will automatically designate ourselves as the deposition officer. If you choose to prepare and/or serve your own subpoena, we are available as your deposition officer.
We recognize that one of the most important aspects of a subpoena preparation service is for our clients to know exactly when the party has been served. For this reason, we utilize state-of-the-art resources to ensure our clients always have access to the details of their case particulars. Simply provide us with the subpoena information through our downloadable work request form, email, fax or phone and we will prepare the subpoena for you, removing this clerical function from your staff.
Request Services Here