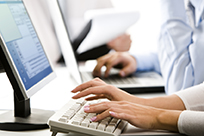 Subpoena Preparation in Corning, California
Beginning with the initial filing and through the final disposition, every step of a legal case is highly regulated by the courts. Failure to accurately complete just one of these steps as instructed has the potential to derail a case
Locating reluctant and hard to find witnesses is one of the biggest issues encountered by those involved in civil lawsuits. Luckily, the team at Accurate Document Imaging has provided subpoena preparation to Corning, California, legal professionals since opening our doors in 2003.
Specified Support
Individuals in possession of documents, materials, or personal accounts related to your case will often need to be ordered to appear in court. This is especially true when witnesses are biased toward the opposing party. Others are simply difficult to find. However, these hurdles should not be avoided nor ignored.
Accurate Document is prepared to assist legal teams and their clients with the services specific to their case. Regardless of the difficulties encountered in your case, our services will be tailored to suit your specific needs.
Correct Completion
Navigating court documents is generally a fairly stressful and time-consuming task that can be undone in an instant. From tight deadlines to the specific forms needed, each detail must be spot-on to be accepted by the courts. The timely and accurate completion of legal documents is vital to the health of a court case.
Our subpoena preparation services guarantee that any witnesses, and the evidence they hold, will be called into court as each document will be filled out, served, and filed according to the regulations that have been set in place by the courts.
Don't allow a complicated case interrupt your efforts to provide your clients with the highest quality legal services to which you have committed yourself. Instead, remove some of the burdens of busy work by hiring the experienced employees at Accurate Document Imaging for your Corning, California, subpoena preparation needs.
Attorneys and their staff can rest assured that these documents will be handled in a professional matter, specific to each case, completed correctly and on time. All of our document research, reproduction, and filing services will allow you to focus on matters of the law instead of wasting precious manpower – all at affordable prices.