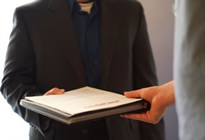 Red Bluff, Tehama County Process Serving Service
Make your deadline with help from a process serving service
As a professional process serving company based in Northern California, we serve the entire Tehama County area. In business since 2003, our licensed and bonded process servers deliver legal notification, as required under the Rules of Civil Procedure, to anyone being named as a defendant in a lawsuit. There are 3 methods of accomplishing service – personal service, substituted service and constructive service. By far, the preferred method of service is personal service.
Process serving is where a writ, summons or other form of legal notification is handed directly to the person being named in the lawsuit as a defendant. It is accompanied by a complaint that details the charges and explains the steps the party being sued must take. We offer guaranteed rates and offer our clients fast, 24 hour service. When we do serve someone, we follow up that process serving service by filing Proof of Service with the Court. What sets us apart from our competition is our willingness to go the extra mile to make sure we accomplish our mission. We will stakeout and wait for the party to show up. If the person can be found, we will find and serve them.
When you need to file a lawsuit and a process serving service, we are here to help. All of our staff are very friendly and happy to answer any questions you may have. Please give us a call at 530-224-9980 or download our fill-able work order form below.
Request Services Here