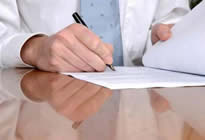 Red Bluff, Tehama County Subpoena Preparation Services
Relieving the burden of subpoena preparation and serving
We are well-versed with regards to the legal requirements for preparing your subpoenas, as well as using the proper verbiage and necessary information required to prepare your subpoenas. Accurate Document Imaging can draft your subpoenas pursuant to your specifications.
Our subpoena preparation services include:
Prepare all the required supporting documentation, including Deposition Subpoena for the Production of Business Records, Notice to Consumer, Certificate of Compliance (if applicable) and Affidavit of the Custodian of Records.
Serve the subpoenas and supporting documentation to all parties in the action, either by mail or in person.
Calendar the Records Dates.
Using scanners and copiers, complete the records copying, both onsite and offsite, for all medical and business records.
Sequential document numbering
Tabbing and indexing
Deliver, email, or mail the copied records.
Our Subpoena Preparation Department will prepare your subpoena and serve the location(s) and opposing counsel(s). As your deposition officer, we will scan on-site the documents requested and provide them to your firm on a timely basis. Call Accurate Document Imaging today or download the work order form to relieve your staff from time consuming tasks required to prepare subpoenas in Trinity County.
Request Services Here