Shasta Court Filing and Service: Reasonable, Efficient and Fast!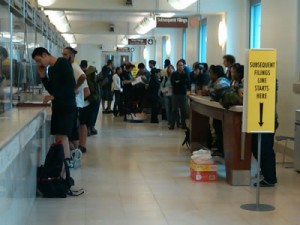 Belting out a Motion or Reply to a Motion or some other time-sensitive pleading is stressful for attorneys and their secretaries. If it comes back from the filing clerk at the court with a huge "UNTIMELY" stamp on its front page, the nightmare then begins.
Because the state is burdened by a recession, law firms are hiring fewer attorneys and less support staff. This "UNTIMELY" scenario is a common one when one Motion gets bumped ahead of another, only to make the first Motion filing late. But there is an excellent, viable solution to this very real problem.
Call Accurate Document Imaging
Accurate Document Imaging will file your documents and Law-and-Motion pleadings with the Shasta County Courts. They will also file your last-minute documents, even with long lines at the courthouse and shorter filing hours. They can handle all of your Shasta County court filings, especially those that you need filed in a pinch.
Process Serving:
They will also handle your process-serving needs, including subpoenas, in as little as 24 hours. Their rates are very affordable, they are fast, and they are accurate. They will do filing and serving in the jurisdiction of the Redding Main Courthouse, Burney Branch, Criminal Courts, Civil, Probate and Small Claims Courts throughout the county.
Document and Court Research:
Accurate Document Imaging will also handle document imaging and court research. They provide notary services for all of their clients.
On-Site Medical Copying Service:
Attorneys who handle medical malpractice cases can appreciate a service that will go to a hospital, doctor's office or other medical facility and copy records. This is an exacting, time-consuming process that can be handled more efficiently by an outside service, rather than having it accomplished in-house.
High-Volume Legal Areas:
In the State of California, certain legal specialties, such as Workers' Compensation and Personal Injury Law, require the photocopying and indexing of voluminous medical and legal records. By utilizing Accurate in these Workers' Compensation and multiple-party lawsuits, the attorneys and their support staff can concentrate on generating business and practicing law.
Move Cases Quickly:
The charges at Accurate Document Imaging are below the norm. By utilizing them, attorneys can move their cases more quickly and see to it that all pleadings, forms and other documents are filed and served accurately and on time. Let them handle your rush service and documents that require notarization and other special handling.
You'll be glad that you did.